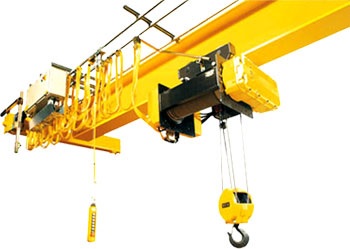 ELECTRIC OVERHEAD TRAVELLING CRANES
The EOT crane moves along the working platform, along two parallel ways of the EOT crane, which are installed on the structures of the working room itself. The lift and the trolley are located on the crane EOT. They move the load up and down, as well as along the beam and along the ways of the EOT crane. Thus, the EOT crane offers three axes of movement of the hook and can move the load along a rectangle without restriction. Like other well-known crane manufacturers, we try to provide customers with high-quality cranes.
We are the best EOT cranes manufacturer and our EOT cranes can be placed both on the plant structure and attached to the roof structure; there are also single and double girders. The variety of EOT cranes is an advantage.
The most common type of EOT crane is a crane attached to the building structure. But when the factory building is limited, it is best to use an EOT crane mounted on the roof structure. Due to the more rigid construction, the double girder overhead crane can withstand a greater load than the single girder crane. Electric EOT crane can be used at any load.
The Advantage of an EOT Crane:
An EOT crane can provide three axes of movement of the hook and cover a large area along a rectangle. Work area may increase.
It is installed at the top of the building, does not occupy space on the floor. The opportunity to meet an obstacle at work is less. In turn, EOT crane has a high degree of safety and efficiency.
Adapted to heavy loads encountered in the steel industry, paper industry, power generation, and refineries.
Due to its good structure, the overhead crane needs less maintenance than other types of lifting equipment. It is more cost effective.
We are known for creating the best EOT cranes in multinational markets. We are providing large-scale market economy rates for EOT cranes created in India.
The EOT crane runs longitudinally along rails laid on above-ground rails on both sides. The lifting carriage moves in the transverse direction along with the guide laid on the EOT, forming a rectangular working area so that the space under the EOT can be fully used for lifting materials. This type of crane is widely used in indoor and outdoor warehouses, factories, docks, and open warehouses.
EOT Crane Application
EOT cranes are important tools and equipment for the mechanization and automation of production processes in modern industrial production and material handling. Therefore, EOT cranes are widely used in internal and external industrial and mining enterprises, in the metallurgical and chemical industry, in railway transport, in port terminals and departments of logistics
If you have been looking for high-quality EOT Cranes Manufacturers, then we are the best name to rely on. Our company provides requirement based EOT cranes for all kinds of business and commercial needs.
EOT crane can provide three axes of hook motion and cover a large rectangle area. The area can increase by prolong the length of end trucks
Installed in the upper part of the plant, it take little floor space. The possibility that need of forklifts and meet obstacle is reduced. This in turn improve the safety and efficient
It is typically adapted to harsh and heavy load environments, such as steel industry, the paper industry, power generation and refineries
With the favourable structure, EOT crane need less maintenance compared to other kind of lifting equipment. It is more cost effective