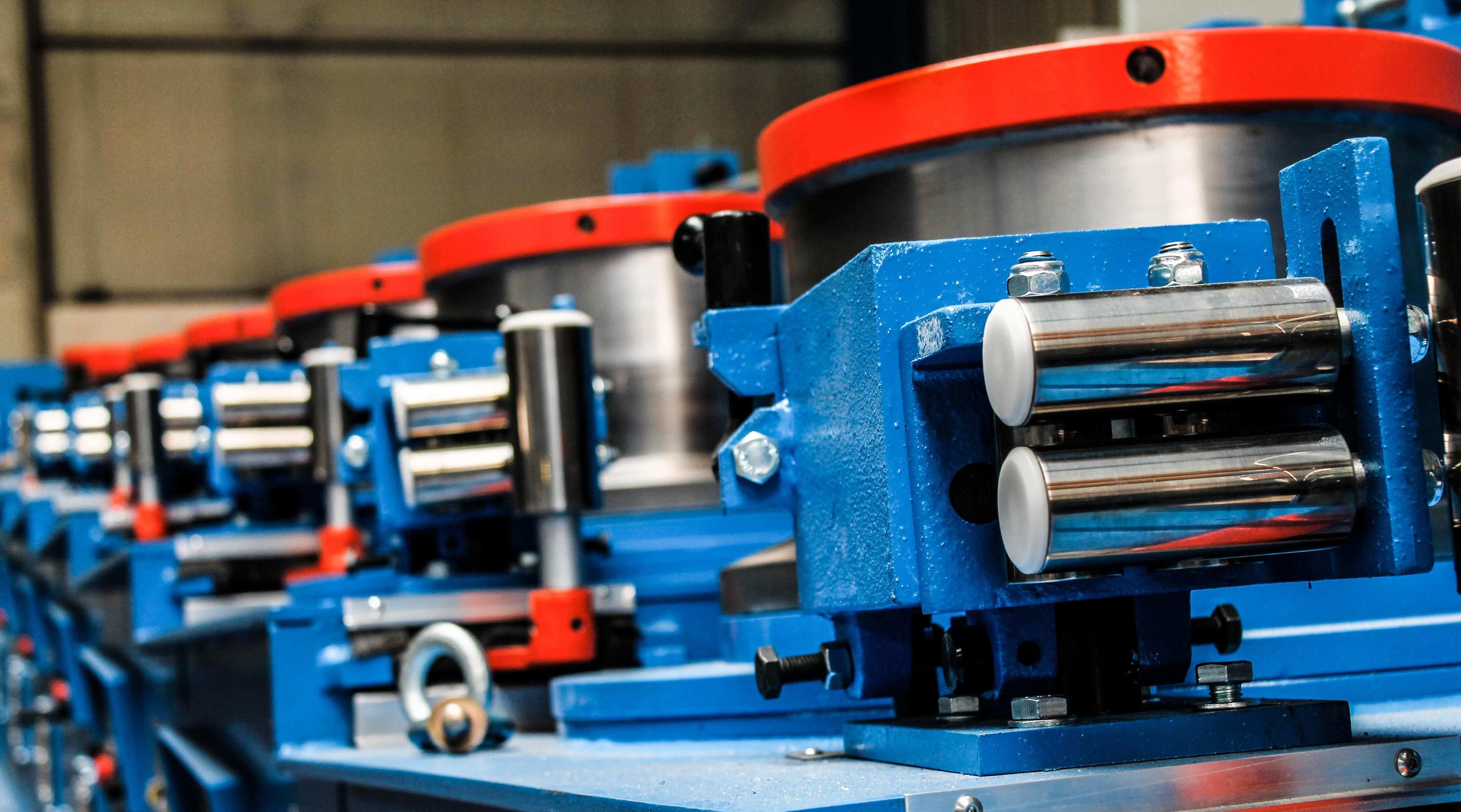 STRAIGHT LINE WIRE DRAWING MACHINE
The Straight Line Wire Drawing Machine package is equipped with a spooler, the main drawing unit, and a spooler. The coil assembly is driven by a variable frequency motor drive system, and the front of the main cylinder unit is powered. Adjustable drawing box. The tension adjustment mold comprises a base arranged on the machine table, a lubrication cavity arranged above the base and a tower structure and a drawing matrix arranged respectively on the front and rear ends of the lubrication cavity.
Application
The machines for continuous wire drawing machines are now widely used in various industries of metal products, such as steel wire industry, industrial machines for wire ropes, and welding consumables industry. With the rapid development of the metal products industry in these years, there is a great demand for straight drawing machines in various sub-sectors of metal products. Wire drawing machines are used in the metal processing industry. This drawing process is a drawing device for thin-diameter steel wire.
The drawing machine can be divided according to their use of metal wire drawing machine (for standard parts and other metal products manufacturing processing), plastic drawing machine (for plastic materials industry with nylon, polypropylene, polyester, polyethylene, polyester chips as the raw materials to produce all kinds of hollow and solid cable or special equipment flat cable deep garden processing).
We are Straight line wire drawing machine manufacturers and adheres to the development of science and technology, quality, and development of pragmatic connotation, and has achieved certain results.
We Aim for Perfection and Precision
At present, the company has complete mechanical equipment, perfect testing means, and strong technical force. It continues to serve customers with advanced and high-quality products and has won the praise and trust of customers. The company will follow the "customer satisfaction, is our honor" as its purpose, as always, to provide users with sophisticated products and quality services
The spirit of the company is "to be united and pragmatic, and to forge ahead." Always adhere to the quality first, customer first, reputation first corporate policy, and gradually improve the quality assurance system. The quality of the products has been well purchased by users.
Straight line drawing machine is widely used, suitable for all wire, low/medium/high carbon steel wire, stainless steel wire, copper wire, welding wire, nail wire, spring wire, gi wire, etc., the appropriate wire diameter range is very large, and can combine with the water tank drawing machine.
Our machines are applied to draw the wire in the factories, such as wire-steel factory, wireless mesh factory, nail making factory, and spring factory, etc.
Contact our company and state your requirements to get the most suitable machinery for wire binding. We have a wide collection of machineries of all kinds manufactured with high precision and quality standards.
We are professional Straight line wire drawing machine manufacturers so we always take care of quality standards while manufacturing machineries and provide complete post services maintenance for each and every product we supply to our customers.
Machines are built on modular structure, in combination of Blocks and do not require any special foundation.
Better productivity due to higher drawing speeds, twist-free operation & better cooling.
Easy operation and faster threading.
High pressure Narrow gap, internal water cooling for high efficiency cooling of wire.
High degree of reliability, low downtime due to lower no. of wear parts.
Block Dia : 250 || 350 || 450 || 550 || 600/650 || 750
High Carbon inlet wire size-mm: 2.2 || 3 || 3.5 || 5.5 || 6.5 || 8