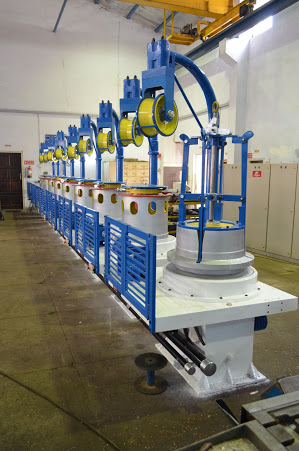 WIRE DRAWING MACHINE
Honesty, responsibility, reliability - it is on the basis of these principles that we build our work in all directions. We honestly guarantee high-quality products and the fulfillment of their obligations.
We responsibly approach the organization of production, competently form a team of professionals and create decent conditions for the staff.
We are a reliable organization for our customers and suppliers; we work on mutual trust, confirming it every day.
We are professional wire making machine manufacturers along with producing equipment with development, design, planning and technical consulting, production, installation, commissioning in service and after-sales service in one. Our company persists in the principle of 'Quality wins the market; integrity makes for the brand'. We make every component with all our mind and energy and to meet multiple needs, all from the interests of customers.
Quality based manufacturing at reasonable cost
The company boasts an exceptional experience gained in the engineering sector and enjoys a good reputation on the market. We have carried out over 100 projects of notable importance in wire making and drawing machine industry. Our company is always finding new partners who are interested in investing in the Indian market, aiming to increase sales in this area, to expand their sphere of activity and reach a new level of internationalization.
Our group of experienced engineers is able to solve the most complex technical problems and regularly meets clients, giving presentations on the latest progress of our partners. Furthermore, our specialists identify technical problems by constantly staying in contact with the different departments of the plants. Precisely for this reason, we are Binding Wire Plant manufacturers and know well the peculiarities of the activity in the market, the machinery of industrial plants and the most lively and pressing necessities in the field of their modernization.
If we become your distributor of wire-drawing machine and wire drawing equipment in India, our marketing department will conduct an analysis of the Indian market for wire-drawing trains, equipment for wire drawing in order to identify the needs of companies, assessing the potential and volume of the market. The specialists of our company will verify the conformity of your wire-drawing machinery and equipment for wire drawing to the requirements of the end users.
Our advantages
Extensive production experience: We are specialized wire drawing machine manufacturers in all kinds of wire drawing machine with experience.
Complete production facilities: own precision grinding machine, straightener, fine polishing machine, precision lathe, milling and drilling machine, roller press, and other advanced equipment. Our technicians will make regular scheduled maintenance on these machines to ensure they work well.
High-quality materials: We have chosen mainly good supplier from large and renowned companies.
Rigorous physical-chemical testing procedures: meet product and process design requirements, providing reliable test data.
Short delivery times: You state your deadline, and we try our best to comply with it.
Best after-sales service: All of our products are trusted by domestic and foreign customers.
These machines are manufactured as per the technological advancements and are appreciated for robust construction, maximum output